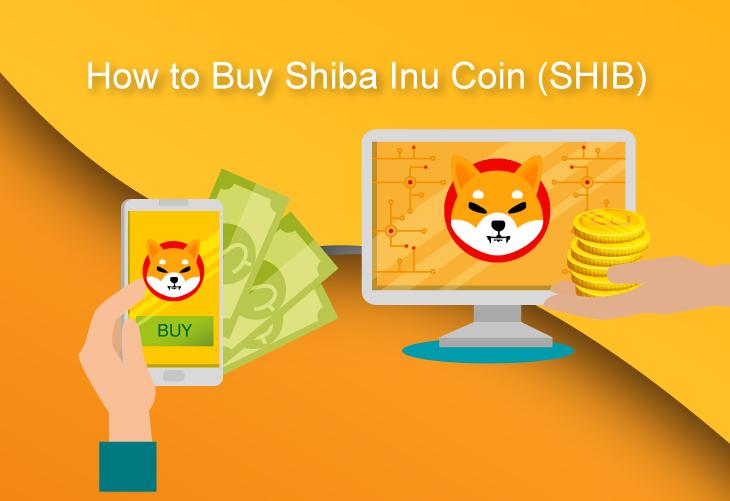 Shiba Inu Coin or the popular meme coin has gained popularity in the last year that has a total supply of around a quadrillion deliberately. It is easy to buy, send or receive Shiba Inu Coin easily through various options like Coinbase, Uphold, eToro, Voyager, etc.
Some other ways to get Shib Inu is via decentralized exchanges like Uniswap, Sushi as it comes under the Ethereum ecosystem.
How to buy Shiba Inu Coin in Trust Wallet?
The Trust Wallet has an access to Decentralized Apps or DApps. It is considered one of the best and fastest ways for buying Shiba Inu Coins with an accessible and easy user interface. The steps to buying Shiba Inu Coins in Trust Wallet are as follows:
First, get the Trust Wallet downloaded and installed on your device.
Choose the option Create A New Wallet and click the continue button after accepting the terms and policies.
Create a 12-word recovery phrase and select Next. Re-enter that recovery phrase and hence your wallet is created.
Then, enable DApps from the Settings.
Furthermore, buy or transfer Ethereum from another wallet.
After that choose the DApp Browser icon at the bottom and select Uniswap Exchange.
Now choose swap from the top tabs.
Next, select ETH as the crypto to be exchanged and SHIB as the token to be exchanged for.
Finally, enter the amount and click on confirm.
Thus, your transaction is successful and can be seen in your Trust Wallet account.
How to buy Shiba Inu Coin in the US?
There are a lot of options present to buy Shiba Inu Coins for US residents but you can easily do it by Coinbase as it is considered easy. The steps to buying the token are as follows:-
First, download and create an account in Coinbase that will be done in a few steps. You will be asked for your identity and address proof.
Next, you need to choose a payment method according to your preference.
Then select the opposite arrows icon and choose the Buy option to start trading.
Choose Shiba Inu from the list to purchase it.
Then enter the required amount that is needed to be bought.
Next, select the Preview Buy option and make sure everything is good.
Finally hit Confirm to complete your purchase
Shiba Inu price prediction
The Shiba Inu Coin price is predicted to range between $0.000047 to $0.000083 in the first six months of the year. It could be a good investment in the year 2022 as it joined Binance.
Shiba Inu Crypto
Shiba Inu is a token or meme cryptocurrency that was launched on the Ethereum based ecosystem as a substitute to dogecoin. Initially launched with almost $0 value, it has a quadrillion circulating supply.
It is used by investors on the decentralized Shibaswap platform to stake tokens for interest through rewards. It has recently launched its NFT platform to collect NFT themed Shiba Inu coins called Shibatoshis.
Black Shiba Inu
Black Shina Inu is a cryptocurrency that is a community-based project. The Elite Dev has augmented the liquidity by adding $40K to the token.
The Black Shiba Inu coin acts as an incubator for the investors to go beyond their limits and restrictions and become a part of the decentralized community. This token is increasing in popularity and can soon be seen on the trending list in recent years
Where to buy Shiba Inu Coin?
Shiba Inu Coins are available on various platforms because of their popularity. It can be bought on both centralized and decentralized cryptocurrency exchanges.
Centralized Exchanges
Coinbase Pro
Binance
FTX
Huobi Global
Gemini
KuCoin
Decentralized Exchanges
How to buy Shiba Inu Coin on ShibaSwap?
The ShibaSwap is one of the most used decentralized platforms to buy the Shiba Inu tokens. There are a few steps to follow and your transaction will be successful. These are the following step to buy SHIB on ShibaSwap.
First go to the official site of ShibaSwap and connect any wallet to you account by clicking on the Connect Wallet option on the upper right corner of the screen.
Then click on the Swap option on the lower left side.
Select ETH and Shiba Inu Coin on the first and second box respectively.
Select the desired amount to be swapped.
Finally hit the Swap button. You can see the desired SHIB tokens in your wallet.
How to buy Shiba Inu Coin on Uniswap?
The Uniswap is another mostly used decentralized platform other than ShibaSwap for trading Shiba Inu tokens. The method to buy SHIB on Uniswap is as follows: –
Firstly, go to the official Uniswap website and click on the Launch App option in the upper right corner.
Then connect the wallet of your choice to your account.
Then select the SHIB token after searching it in the box. If it is not there already then you have to import it.
Select the desired ETH to be converted to SHIB token and complete the transaction.
Your Shiba Inu coins will be reflected in your wallet.
How to buy SHIB on mobile devices?
It is easily available to buy Shiba Inu coins on your mobile devices. You will need to install any one of the leading apps to get you SHIB tokens. The steps are given below to buy SHIB on mobile.
Download the app and create an account in any of the trading apps like Coinbase, FTX, Binance, eToroX etc.
Set your seed phrase and write it down on paper.
Then add the payment method of your choice.
After that, you can start your trading by selecting the desired tokens.
Furthermore, enter the amount that you want to trade.
Lastly, confirm your transaction.
How to buy SHIB in New York?
The crypto trading in new projects has been restricted in New York despite being a highly involved crypto trading region.
Regardless, there are two possible platforms to buy SHIB for the inhabitants of New York without going against the law. Those platforms are Coinbase and Atomic Wallet.