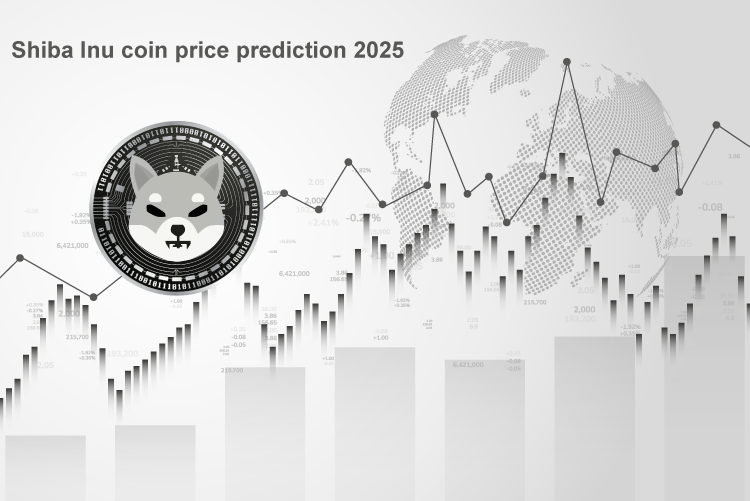 Shiba Inu coin is the newest doggy-themed cryptocurrency that is causing a lot of buzzes. The revived interest in dogecoin sparked by the Wallstreetbets subreddit at the start of 2021 infused new life into meme currencies, notably ones featuring Shiba Inu dogs.
Elon Musk was a big supporter at the time, supporting the rise of Dogecoin with a series of tweets about dogs and cryptocurrency. Let us study more about Shiba Inu coin price prediction 2025 right from the beginning.
What exactly is the Shiba Inu (SHIB) coin?
Shiba Inu Coin is actually an ERC-20 token that has grown in popularity, owing to its dog-themed environment, retail investor speculation on its price, and active community. Shib's official Twitter account, for example, has more than 2.3 million followers, more than Cardano, Kraken, and Solana.
Shiba Inu, together with dogecoin and hundreds of other pet-themed digital assets, has been known as "meme coins" in the industry.
Distributing Pattern of Shiba Inu (SHIB)
During the project's initial debut in 2020, a fixed total number of 1 quintillion SHIB tokens was issued. A quintillion is a number with 15 zeros after it. Uniswap SHIB/ETH liquidity pool – a decentralized exchange where people put pairs of commodities into liquidity pools that some other buyers can trade against – held about half of the supply of Shiba Inu.
The remaining 50% of the SHIB token supply was sent to Vitalik Buterin, the founder of Ethereum, who burned the majority of them by transferring them to a defunct crypto wallet address.
The leftover tokens worth $1.2 billion were given to a relief effort in India called COVID-19, as well as other organizations.
Shibaswap, a decentralized exchange, and two more currencies, "LEASH" and "BONE," are also part of the Shiba Inu universe. At the time of release, SHIB was selling for $0.000025, a far cry from $0.01. Despite this, its market valuation has already surpassed that of Dogecoin.
Price History of Shiba Inu (SHIB)
Musk intimated that he might mention Dogecoin on "Saturday Night Live" in the run-up to his presence in May. This sparked an unusual dogecoin price surge, boosting SHIB's worth. The price of SHIB rose by approximately 2,000% in just five days.
Following Musk's declaration that Tesla will no longer take bitcoin as a mode of cash, the coin's price plummeted, as did the market as a whole.
When Musk released a picture and the name of his newest Shiba Inu puppy during the first few weeks of October, it regained some of its lost value.
From January to August 2021, the price of SHIB increased by nearly 27,000,000%.
Shiba Inu had a fantastic year in 2021, with a breakout that started in April and culminated in a tremendous rally in October that saw prices jump from 0.00052 to 0.060 in just 25 days, a 1000 percent rise. The price had plummeted by about half since then, and traded at 0.001537.
Despite market highs and lows and epidemic setbacks, SHIB only maintained a steady rising trajectory, presenting pleasant if not encouraging patterns until it ultimately settled at 0.002511 by the end of 2021.
SHIB has been on a similar upward trajectory, reaching numerous all-time highs and repeatedly breaking its own barrier, and is expected to generate good gains in 2021.
Shiba Inu (SHIB) Coin Price Prediction 2022
The consensus 12-month price target for Shiba Inu is $0.0000723, with a peak of $0.000082 and a low of $0.00005. Shiba Inu is expected to market with positive momentum by the end of 2022, reaching $0.00007.
Shiba Inu price projections predict that before the end of the year, the average cost will be $0.00008.
The maximum expected in 2022 is $0.0001, with the lowest expected to be between $0.000039 and $0.00004.The Shiba DAO, which will be established in 2022, will assist to democratize Shiba Inu and attract a huge number of new members.
Price Prediction of Shiba Inu (SHIB) 2023
Because of technological advancements such as layer 2 solutions, Shiba Inu's performance will improve in 2023, making it more economical to use than the bulk of other cryptos.
As per the data provider forecast Shiba Inu price estimate, SHIB will start trading at $0.00008 in 2023. Another surge to $0.0001 is predicted by the middle of the year.
The average price is projected to be approximately $0.00015, with the highest price hovering around $0.0002.
Shiba Inu (SHIB) Price Prediction for 2024
Dogecoin will be mostly forgotten by 2024 in the crypto world, but Shiba Inu's popularity continues to grow.
The meme money will reach an average cost of $0.00017 by the close of 2024, as per Shiba Inu price forecast statistics. $0.00031 is the expected high for 2024, while $0.00009 is the expected low.
Shiba Inu (SHIB) Price Forecast for 2025
The median goal price for Shiba Inu in 2025 is $0.00180, with a high of $0.00135 and a low of $0.000966. Have you ever wondered what the Shiba Inu coin would be worth in 2025? SHIB is expected to hit the $0.002 level in 2025, according to the coin price forecast.
Because this could happen before the close of the year, the forecasted price in mid-2025 is $0.0009756. The meme currency will have risen significantly to $0.00232 by the close of the year.
Why does buying a Shiba Inu (SHIB) coin have both advantages and disadvantages?
When purchasing a Shiba Inu coin, investors can take advantage of a number of advantages. These advantages include the capacity to utilize crypto-currency for a wide range of purposes and exceptional value for money.
Due to its unique qualities and increasing supply from digital asset traders, the Shiba Inu currency has become increasingly popular. This indicates that its worth is likely to rise in the next few years.
Shiba Inu coin investors should be aware of the hazards involved with this cryptocurrency. Volatility, exorbitant costs, and a lack of regulation are among them. Because of these causes, there will almost certainly be times when the token price fluctuates dramatically.
Amazingly, the Shiba Inu token has a bright future because of the community's active support and as per technical analysis of the Shiba Inu Coin from 2022 to 2025.
If the price of a Shiba Inu continues to climb at its present level, it will be a fantastic investment. Moreover, Elon Musk's Twitter mentions of the SHIB as a meme coin also help SHIB stay in the news for more huge investments.